On our screens
from October 15 to October 21, 2021:
IN-LAWS | TEŚCIOWIE
(Kuba Michalczuk) PL 2021, 82'
(in Polish with English subtitles)
Is the wedding party a sure-fire disaster if the wedding is cancelled? Certainly. And what a disaster it is! Everything sets the two families apart – their background, status, wealth and taste. Initially, the parents of the groom and the bride are simply shocked. What happened? Who is responsible for this? What about the wedding party? Should we welcome the guests? Let the music play? Pour drinks? Who will cut the cake? From one word to the next, pleasant smiles turn into a nasty public quarrel. That's when the real shocker comes… In the meantime, the wedding party grows really wild. And no one seems to be missing the bride and groom.
LEAVE NO TRACES | ŻEBY NIE BYŁO ŚLADÓW
(Jan P. Matuszyński) PL 2021, 2021'
(in Polish with English subtitles)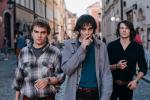 Poland, 1983. The country is shaken by the case of Grzegorz Przemyk - a high school student beaten to death by militia. Jurek - the only witness of the beating, overnight becomes the number one enemy of the State.
NO TIME TO DIE | NO TIME TO DIE
(Cary Joji Fukunaga) GB/US 2020, 163'
James Bond has left active service. His peace is short-lived when Felix Leiter, an old friend from the CIA, turns up asking for help, leading Bond onto the trail of a mysterious villain armed with dangerous new technology.
NOTTURNO | NOTTURNO
(Gianfranco Rosi) IT/FR/DE 2020, 100'
(in Arabic with Polish and English subtitles)
Notturno develops a theme the director dealt with in his previous film, Fire at Sea. That film focused on the migration crisis as observed from the shores of Lampedusa, where boats with refugees were docking day after day. This time Rosi goes in the opposite direction: to the Middle East, to places abandoned by people seeking refuge. For three years, he traveled with his camera along the borders of Iraq, Kurdistan, Lebanon, and Syria, filming the inhabitants of a region hard hit by history. In his documentary essay, he depicts, in a poignant and evocative way, life in anticipation of yet another drama: unending uncertainty in a world of cyclical disasters. The structure of the film brings out this cyclicality: we see an army screaming in a threatening manner; women mourning their dead sons, brothers, and fathers; children suffering from post-traumatic stress; a once proud military that has now become an army of prisoners. We see a psychiatric hospital as a stage for a political spectacle—it would be hard to find a better metaphor for the type of madness that is destroying homes and people. Silent, but with a brilliant soundtrack, Rosi's film plays in its own way with the notion of a nocturne—a romantic poem or a painting that takes place in a nighttime setting.
POLAŃSKI, HOROWITZ. HOMETOWN | POLAŃSKI, HOROWITZ. HOMETOWN
(Mateusz Kudła, Anna Kokoszka-Romer) PL/FR/US 2021, 75'
(in Polish with English subtitles)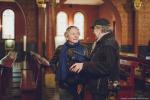 After several decades, they finally met in their hometown. Two artists, photographer Ryszard Horowitz and film director Roman Polański, are wandering around Kraków along the pathways of their wartime experiences. They walk through the streets of Kazimierz and the former ghetto, look into the flats where they spent their childhood and remember those who are no longer alive as well as those who enabled them to survive the Holocaust. The film is a colourful tale about childhood, friendship, the same Jewish fate and, above all, the place that (despite the passage of time and many changes) continues to remain their home.
THE GETAWAY KING | NAJMRO. KOCHA, KRADNIE, SZANUJE
(Mateusz Rakowicz) PL 2021, 96'
(in Polish with English subtitles)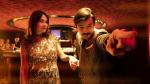 An action comedy about the king of thieves and getaways. Inspired by true events from the life of Zdzisław Najmrodzki who ridiculed the authorities by slipping away from law enforcement twenty-nine times. Women loved him, while men admired him. In the 1970s and 80s all of Poland followed Najmrodzki's daring stunts.
THE WEDDING DAY | WESELE
(Wojciech Smarzowski) PL 2021, 135'
(in Polish with Polish and English subtitles)
The story of a WWII tragedy in a Polish village mixed with the story of a wedding taking place in the same place 100 years later. A bitter look at a xenophobic community that forgets its own history.


You can also watch films on our online platform: www.e-kinopodbaranami.pl.
ABOUT KINO POD BARANAMI - read HERE